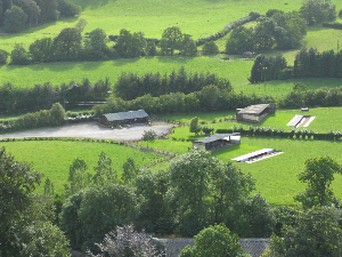 Griffin Lloyd
Griffin-Lloyd shooting ground sporting facilities provide a variety of simulated game stands including spring teal, high pheasant, dropping crow, bolting rabbit etc. All stands are connected by a gravel path through the timbered valley where traps are situated among the trees giving the shooter some variety and challenging targets in natural conditions in the stunning Mid Wales countryside.
The centre offers:
20 sporting stands
High pheasant area available for superb training for driven high pheasant
New grouse butt recreates the excitement of the Grouse Drive. A number of traps which offer great variations in speed and angles as well as a simulated grouse drive
English skeet layout is also located in the timber valley. This discipline is good for both beginners and experienced shots.
Two trap layouts under cover offering Olympic Trap (OT), Automatic Ball Trap (ABT) Universal Trap (UT) and a Down-the-Line (DTL) layout.​
Learn to shoot – Half day tuition and shooting includes all of the following:
Half a day tuition and shooting
Unlimited tea and coffee
Gun hire
50 clay targets & cartridges
Ear defenders
Full catering facilities at Clubhouse
Min. 10 people per group
Contact: Ray Thomas for Ray's Shooting Experience Days at www.lionhotel-llanbister.co.uk on 01597 840244