History of Highland Moors
The Heighway family came to Llandrindod Wells in 1870 from Ruabon, North Wales and established a brickworks in June 1868 which provided most of the red and yellow bricks used in many of the Victorian buildings in the town. Thomas Heighway became the tenant of the Rock Park (famous for its spa treatments) and was responsible for numerous innovative improvements including:

Electrical therapies, complex sprays, douches and baths and various packs where peat and other mineralised matters were applied. Bottling and sale of water to local hotels in 1-2 gallon jars. 
He discovered the following springs in the Rock Park:
Roman Spring in 1893

Magnesium Spring in 1893

Radium Sulphur Spring 1904

Lithia Saline Spring in 1905
He was responsible for planting 43 different species of tree in the Rock Park – a total of 90 trees. After the Rock Park lease expired and was sold to the Town Council, Heighway discovered six springs south of the town and built a premier Hydro Spa Hotel called Highland Moors using his vast knowledge and experience.  Highland Moors Hydro Spa became hugely popular attracting wealthy gentry who came for the range of treatments, to enjoy the fresh air from the roof, and to sip and stroll in the gardens.
Treatments included:
Strong sulphur immersion

Hydro-electric-medicated sulphur baths

Carbonic acid baths

Effervescing pine or medicated baths

Spinal sulphur douche

Vichy massage douche

Aix douche massage

Tribune scotch douche

Radiant heat baths

Fango radioactive mud treatment

Tyrmauer electrical hot air apparatus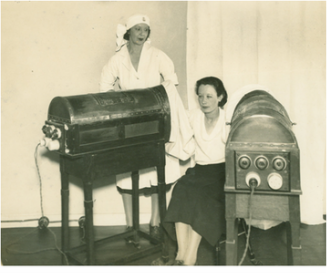 Key features of Highland Moors Guest House include:
Flat roof used originally as a sitting and viewing platform. This will be restored in time to allow guests to enjoy the breathtaking views over Mid Wales 

William Morris inspired stain glass windows, fireplaces and other decorative features

Original cooking range in the kitchen

Oak panelling, parquet flooring and terracotta tiling throughout

Decorative cornices
Highland Moors is the last remaining Victorian Hydro Spa Hotel in Llandrindod Wells. The town is deemed to be the very centre of Wales. Its growth was due to its renowned spa waters and attracted wealthy gentry from all over Europe during the late Victorian period, and into the last century. 
Due to the demand for high quality hotels, many luxurious hotels sprung up all over the town. There was one difference with Highland Moors. Whereas many of the other hotels were built in the town within walking distance of the main springs, Highland Moors was built on 6 acres on which 6 springs were found. Highland Moors was purpose built as a hotel with a fully operational hydro spa and two purpose built pump rooms which directed the springs to the hotel and the hydro spa for the range of treatments on offer. 
Highland Moors opened as a new private hotel in 1911. It was commandeered in 1918-1925 by the Red Cross as a military hospital. It reverted back to being a hotel in 1926 until it was sold to the National Memorial Association as a Sanatorium school for boys with TB and asthma in 1932.
Jeff & Sue held a special 80 years anniversary weekend break and dinner in 2012 for 40 of these men and their wives or family members who visited since they bought it in 2003. It was a boys school until 1958 when the Missionary Sisters of Verona turned it into a convent to provide a refuge for expectant Catholic girls, and latterly elderly nuns who needed care. Some families even came to the convent for a holiday break. It became a foster home in 1994 until 1997 and then a B&B until 2001 until its forced closure with the foot & mouth outbreak.
When Jeff & Sue came in 2003, it was like the Mary Celeste. They started a refurbishment project that was to last twenty years and it still ongoing today to bring this beautiful building up to a standard worthy of its heritage.  
Twenty year refurbishment plan – 2003-2023 
The refurbishment project so far is estimated to be about 30,000 hours of intensive and challenging projects which include amongst many:
Building of 11 new ensuites

Re-roofing of main house and East Wing

Replacement of all windows in guest areas

Carpeting in most areas

Redecoration of all rooms and corridors

Replicating original panelling from main hallway on corridors and throughout the East Wing

Refurbishment of toilets for the main house and gym

Repainting building several times

Resurfacing car park and driveway
Converting meeting room to gym
Repair of fire escape
Landscape gardens and vegetable garden behind Rose cottage
Last projects include:

Completion of restoration of East Wing

Cleaning roof tiles, guttering and re-painting chimneys 

Remodelling of stores area and basement